COVID-19 Variable Compare Tool
This tool is designed to assist investigators who are evaluating or choosing between COVID-related questionnaires or surveys to include in their research or study design. There are three main ways to search the variables and topics represented in the PhenX COVID-19 Specialty Collection. See More…
Keyword Search allows the user to search for any variables (survey questions and associated responses) which are related to the search term or keyword entered. This is especially useful for investigators searching for questionnaires which contain variables about their subject area. For example, an investigator could search for "news" to see which variables and questionnaires ask participants about the amount and type of news media they consume regarding the coronavirus and COVID-19.
Side by Side Comparison allows the user to directly and specifically compare two questionnaires. This view highlights the number of similar variables and their degree of similarity. This option can be very powerful for exploring how two different questionnaires assess a certain topic.
Compare Questionnaires allows the user to compare many questionnaires at once. The heatmap visualization summarizes the number of similar variables in common among a set of questionnaires. Filters allow the user to specify the degree of similarity for variables being compared (i.e., variables must be at least comparable between questionnaires). This can be a very powerful tool for users interested in determining possibilities for data harmonization or comparison between questionnaires. For example, a user may want to know which questionnaires have at least 10 variables that are comparable or identical, without specifying beforehand which questionnaires will be included.
Searching by keywords will allow you to find variables related to those keywords. In addition, you will be able to find questionnaires that feature similar variables.
To see how similar two questionnaires are, select the two questionnaires you wish to compare from the below list. Results will summarize the percentage of variables in common and provide side by side comparisons of which the common variables are in common.
Select questionnaires from the list below to visually compare their similarity.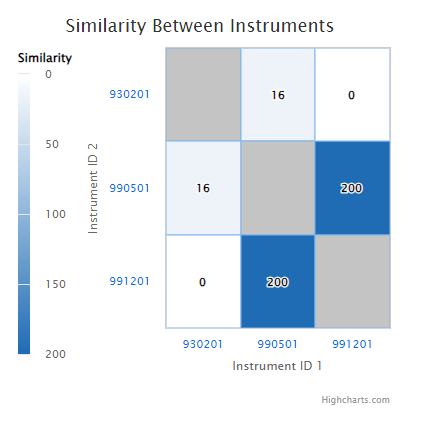 You can view similarities across multiple questionnaires using this option.